Making Our Shoes Ready for the Field
Our shoes are vigorously tested to make sure that they will stand up to the abuse they will receive on the field ensuring that your shoes won't fall apart while you are rounding the bases.
Testing occurs in two phases. The first phase ensures quality of materials and design of the shoe. While the second phase ensures that our shoes are being manufactured correctly.
How are Shoes Tested?
There are a couple of different tests that our shoes go through to make sure they are ready for our consumer. These tests include Flexibility, Pull, slip resistance, shock absorption, fit, comfort, and durability. Only after our shoes go through this long list of testing are our shoes ready for our customer.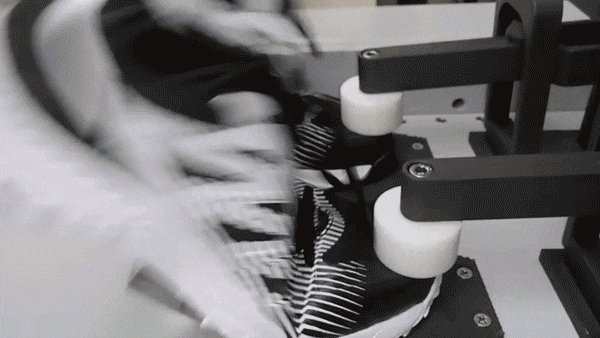 Flex Test
Flex testing is important to test the durability as well as the comfort and performance of a shoe. This test flexes and creases the shoe at the ball of the foot to simulate tens or even hundreds of thousands of steps. It is used both during development to make sure we use quality materials and engineering. It is also used on production shoes daily to ensure our manufacturing matches our high standards.
Fit and Wear Testing
Fit and Wear testing ensures that our shoes are comfortable to wear and aren't creating any extra pressure to the toes or other parts of the feet. This test ensures that the combination of the last, materials chosen, and construction create a comfortable and high performing shoe that has a constant fit across all lines.
Tensile Strength Test
This is the test that shoes have nightmares about. After a shoe has been completed, a machine is then used to test the strength of the adhesion of the upper to the midsole. A gradually increasing downward force is applied to the shoe. If the upper cleanly pulls away from the midsole then the adhesion fails. However, if the machine rips through the midsole foam before the glue fails then the shoe passes this test.
Get the latest information on our new footwear
Sign up to receive stories and updates straight to your inbox as we develop our new line of footwear