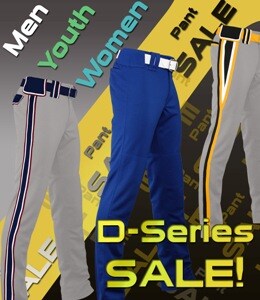 News
For a limited time we are offering Team USA shirts for $24.99, or $29.99 with your name and number. To place an order, please call us at 815-941-1431. These are the same shirts the players wore at the Border Battle as seen on ESPN this past weekend. (07.20.09)
Boombah B Big Rig Trucker hats are now available! (07.14.09)
We have updated our shirt colors to better match our pants and are closing out the older colors. Save $2 on any Explosion, Extreme, or Performance closeout shirt while they last. These are our top-of-the-line, moisture wicking and anti-microbial shirts! (7.3.09)
Congratulations to the winner of the Colorado Sparkler, Mike McGee from Knoxville Fury!
Click here to check out some recently ordered Custom Fielding Gloves!
Using Twitter? Perhaps you will find it easier to be notified of sales and events by following us here.
D-Series Pant SALE: check out the styles of Men's Maxed, Venom, and Solid Pants either on Closeout or Special. And D-Series Pant Specials for Women and Youth too! (6.19.09)
Limited edition Boombah Senior Slowpitch Bats now on sale! (6.19.09)
Sale! Bomber Pullover, $19.99 (no team discounts). (5.12.09)
Sale! Excess poly "feels like cotton" shirts, $6.99-$7.99. Available in Men's short sleeve and long sleeve, and also Women's short sleeve and long sleeve. (5.12.09)
New Big Rig Trucker hats are in! (04.30.09)
The Ultimate Blowout is now in effect! (04.22.09)
We are now ready-to-roll with completely customized Basketball Uniforms! (pictures soon to follow) (04.17.09)
PLEASE BE AWARE: That due to corrections we have made in our shirts colors to better match the pant colors, many new shirts will have some color variation from the previous shirts. (3.24.09)
We now offer 17 different styles of customized pants! (02.26.09)
Many of the XTR500 Trail and XTF500 Turf shoes are in. (02.20.09)
Hands down, the best polo on the planet for $19.99 (special introductory pricing). (02.12.09)

The new Explosion Pullovers are in! (02.12.09)
Custom pants are now available to order online!(01.30.09)
Limited Edition, while they last...

(01.29.09)
The Bombers have arrived! (01.28.09)
While they last - all bats 30% off (use promo code BATS). (01.28.09)
Limited edition, while they last...

(01.19.09)
Looking for our D-Series Pants? We have more than a few thousand styles/sizes from which to choose. :) (01.14.09)
We have extended our special closeout pricing on the Ultimate Dew pants. Get both the red and green for only $29.99! (12.29.08)
New lower price on the Ultimate Thick Stripe ($49.99, $45.00/qty. 10) and Ultimate Double Stripe ($39.99, $36.00/qty. 10) pants. (12.15.08)
The Mesh II Mid Top Turf shoes have arrived! (12.15.08)
Preview look of some of the hats coming in for 2009 here.
All Mesh Hats, now ONLY $3.50 (no team discount). (11.06.08)
Keep it warm, but play it cool with the New Boombah Knit Beanie, only $7.99! (11.03.08)
The Boombah Mesh Turf Shoe I have been reduced to ($19.99), the Bullet Turf Shoe I ($24.99 - $29.99), and the Blitz Trail Shoe ($34.99). (10.31.08)
The 2009 Team Buyin program is on! (9.26.08)
Sale on the Ultimate Loaded ($44.99) and Deluxe Loaded ($39.99) pants! Also, the Ultimate Solid and Deluxe Solid pants are now available for $34.99 and $29.99 respectively. (9.11.08)
The new D-Series Pinstripe pants are in stock. A classic, clean look at a great price. (9.11.08)
We are finalizing the details for our 2009 buyin program and will have more details available soon.(9.11.08)
We are pleased to announce the new BattleGear Ultra Heat Gear compression top. Super stretchy and super comfortable with moisture management technology to keep you cool. (8.26.08)
Summer Closeout Special: ALL SwingGear Batting Gloves $9.99. (8.1.08)
We are pleased to announce the new Supreme Tech Fleece pullover. Lightweight, moisture wicking, 4-way stretch super comfortable fabric at a great price of $19.99. Their lightweight nature makes them perfect for cool summer nights. We are getting some new equipment in this week which will allow full-color customization on these as well as all our existing shirts. Stay tuned for more info. (7.12.08)
We are also pleased to announce the new BattleGear Excess shirt which feels like a regular cotton T, but is a blend of Poly and Spandex and provides moisture wicking. Also, we found a few more Boombah Logo Classic Pullovers to close out and there is very limited stock so don't delay if you want one. (7.12.08)
Special closeout pricing for our 2006 BattleGear Performance shirts. Hurry while they last!(7.11.08)
The 2009 Easton Stealth+ IMX bat has just been added to our every growing list of bats bringing the total to 41.(6.18.08)
The Explosion shirts have finally exploded. 32 new colors and a new size too (extra small). Most are in stock now, and a few colors and sizes should be arriving any day now.
Anything else new? How about 23 new colors of D-Series Maxed Pants, 4 new colors of our 3D Logo Hat, the new 2009 Brett Helmer Synergy Power+ slow pitch bat, 4 new colors have been added to the Swing Gear Premium line of batting gloves, plus a whole new line called the Swing Gear Elite. And as always, more coming soon! (6.3.08)
We are closing out the 07 Bat Packs and 07 Beast Bat Bags. Hurry while they last and save $7.50 - $10.00 each. Closeout items are provided as-is with no warranty. (5.17.08)
Due to the overwhelming demand for the D-Series Pant, we will be reducing and in some cases eliminating styles of in stock Deluxe and Ultimate pants. These pants will continue to be available for custom orders with a minimum order of 10 pair. The current stock is available for immediate delivery, however out of stock items on discontinued styles will have approximately a 4 week wait, and will be at $10 over the current team price. New custom pricing and info will be updated in the future. We have reduced the Ultimate Stripes to 54.99 and the Ultimate Loaded to $54.99. Deluxe Loaded has been reduced to 44.99. Double Stripes have been reduced to $44.99 There is no quantity discount on these items. Also on closeouts, all sales are final!!! No returns or exchanges. (3.6.08)
All new introduction to our high performance / compression line. "Get Hot" compression tops have arrived and will be ready for shipment within a week. Great new fabric that will allow you to "Get Hot" when the weather is not. And at a special introductory price of only $24.99 - $25.99. (3.1.08)
3 styles of
Baseball Jerseys
are available on a custom order basis. $29.99/ea. or $27/ea. for team orders (qty. 10+).
Women's and youth cut pants are available for no additional altering charges when you place a team order (min 10 or more). Available for ALL pant styles except Pro Player.
The original Mesh Turf and Bullet style shoes have been reduced $10 to help clear some space for all the new shoes coming in. Priced at $29.99 and $39.99 respectively, this is another deal which is hard to beat.