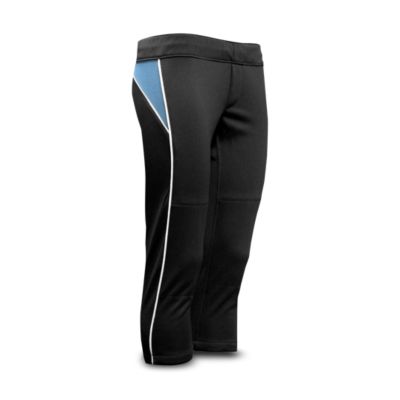 $29.99
$24.99 - Sale Price!

Women's Waist Size:
Please select
NOTICE: Any stock pant currently not in stock (has no inventory) will have to be ordered via the custom pant builder at custom prices. If the pant style is not currently in the pant builder, wait time for these pants will be 3-4 months.

• These low-rise, pants have a tight fit perfect for any player who wants a performance softball pant with a sleeker silhouette
• Contrasting inserts with pipe on the sides
• Elastic waistband with interior drawstring
• Elastic cuff hem with grips to secure pants and socks in place
• Back pockets with piping
• Fabric: Body: Hypertech (100% Polyester); Panels: Hypertech Reversed (100% Polyester)
• Machine Wash
• Imported
Boombah knows how important it is to stand out. With the largest selection of products, the most colors available in the industry, and the best prices, it is only fitting that you customize your Boombah gear at Boombah.
With an assortment of screen print applications such as all over printing, numbers, placement prints, and jumbo prints you can be assured your products will stand out. The new facility can push through 11,000 impressions per shift. Also, our in house Color Kitchen can make any color any ink type possible giving you the flexibility to make sure your customization is exactly what you need.
Customization available for this product: